Lessons from the Loʻi
Heʻeia, O'ahu, Hawai'i
Traditional Native Hawaiian land management practices developed deceptively simple, naturalized biocultural technologies. This project investigates the terraforming system known as loʻi wai (stormwater redistribution system.) The loʻi wai irrigated loʻi kalo (taro pond fields), which supported large-scale food forests, enhanced watershed performance, created synanthropic ecosystems, and connected people to each other and their local natural resources.

Kuauna, earthen embankments, facilited the organization and dispersal of stormwater, wai, throughout the loʻi wai system. Additionally, kuauna provided crop windbreaks, expanded growing areas, and connected communities.
Today, ca. 90% of Hawaiʻi's consumable goods are imported and only approx. 400 acres of loʻi kalo systems remain statewide. Climate change is projected to increase severe stormwater events and native habitat degradation. Hawaiʻiʻs urbanization decreases opportunities for groundwater recharge. This applied design research project investigates the multifaceted ways in which loʻi wai and kuauna can be interpreted to improve Hawaiʻiʻs climate change resilience.

This project was inspired by and a beneficiary of the stewardship and ʻike kūpuna of Kākoʻo ʻŌiwi, a non-profit organization that manages 405 acres of wetland in Heʻeia.
Spring 2021 - ARCH 764
Capstone Studio: Research & Design

Capstone committee: Judith Stilgenbauer (chair), Phoebe White, Priyam Das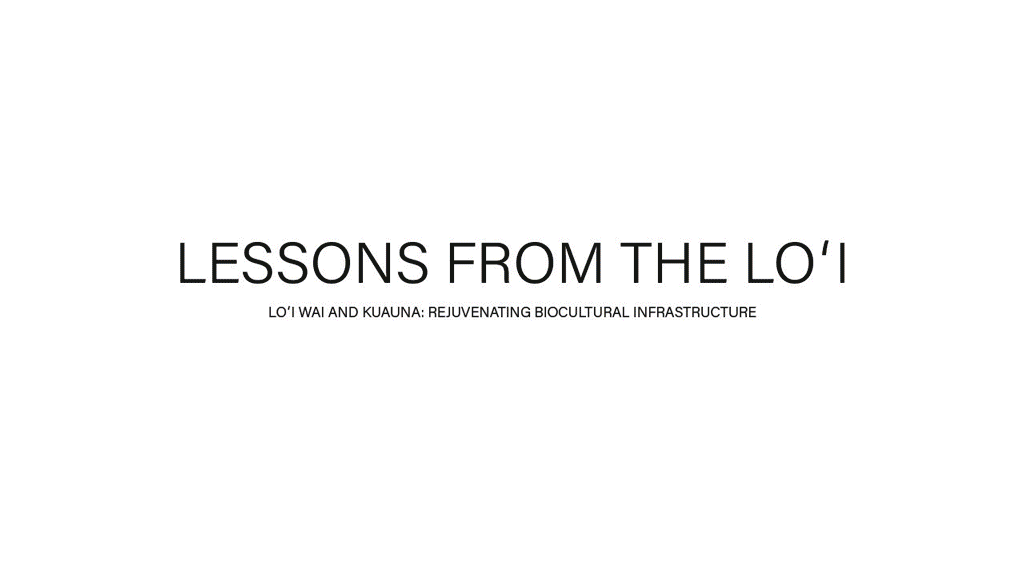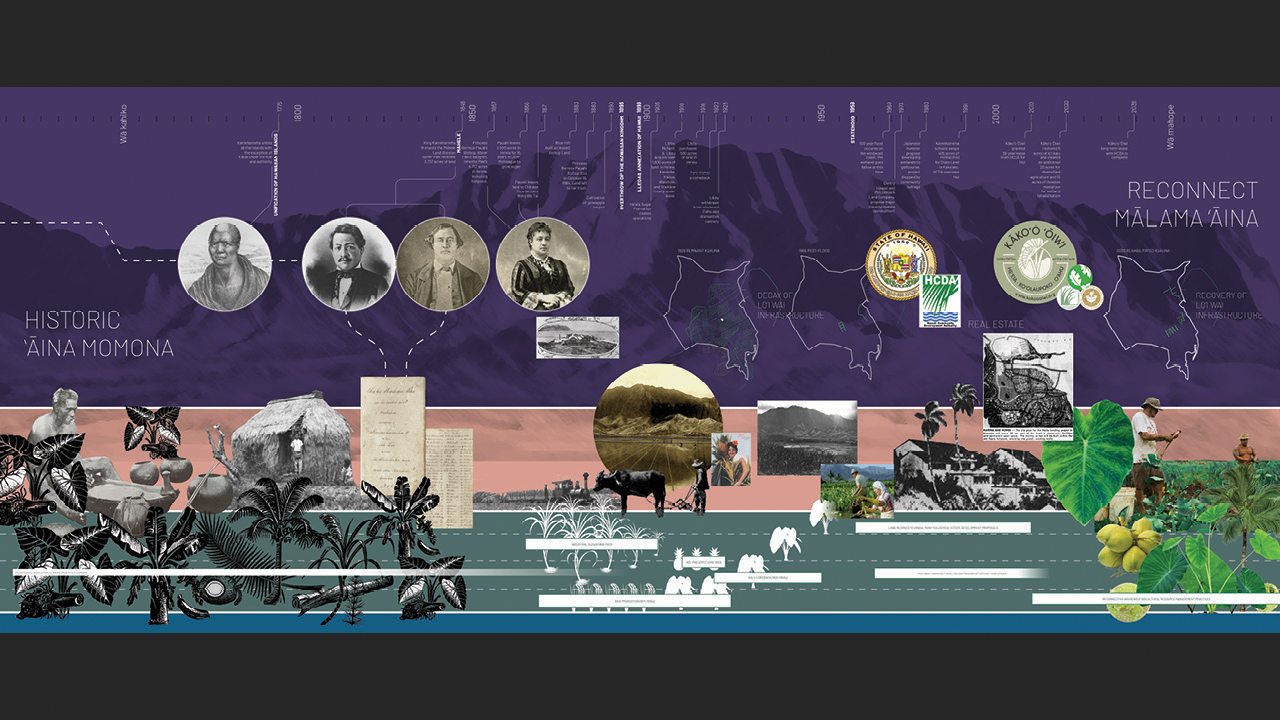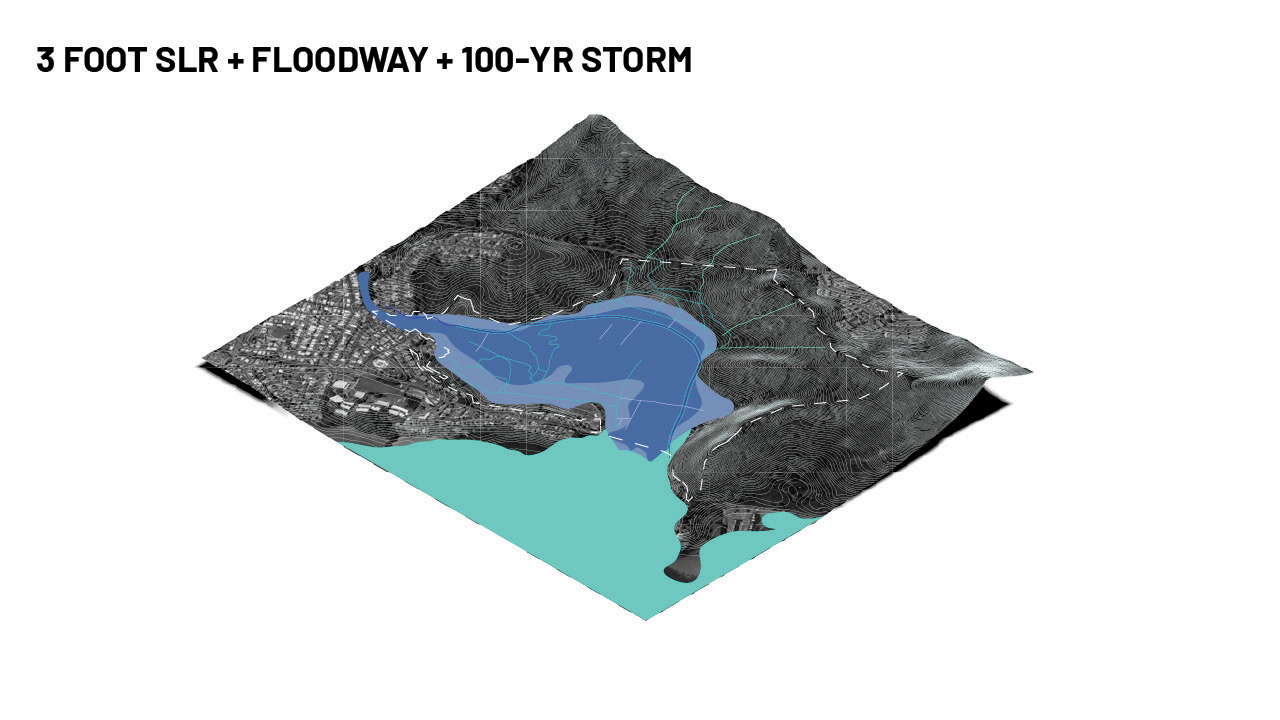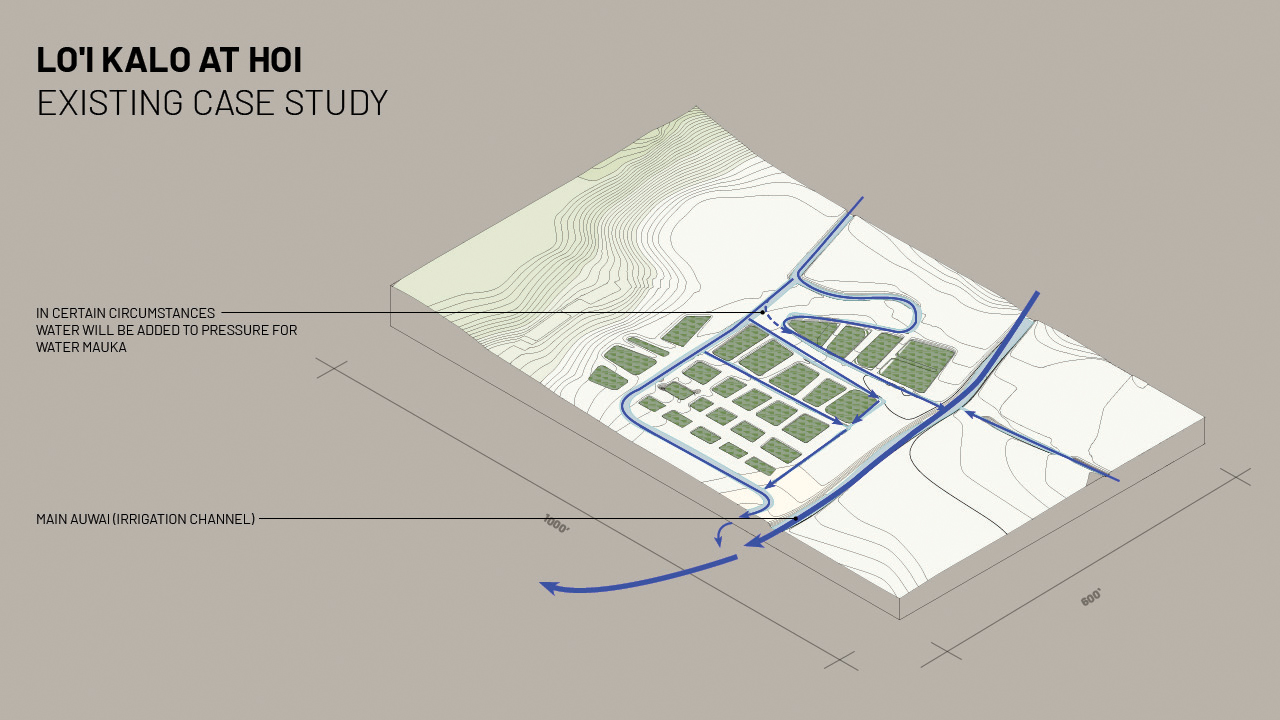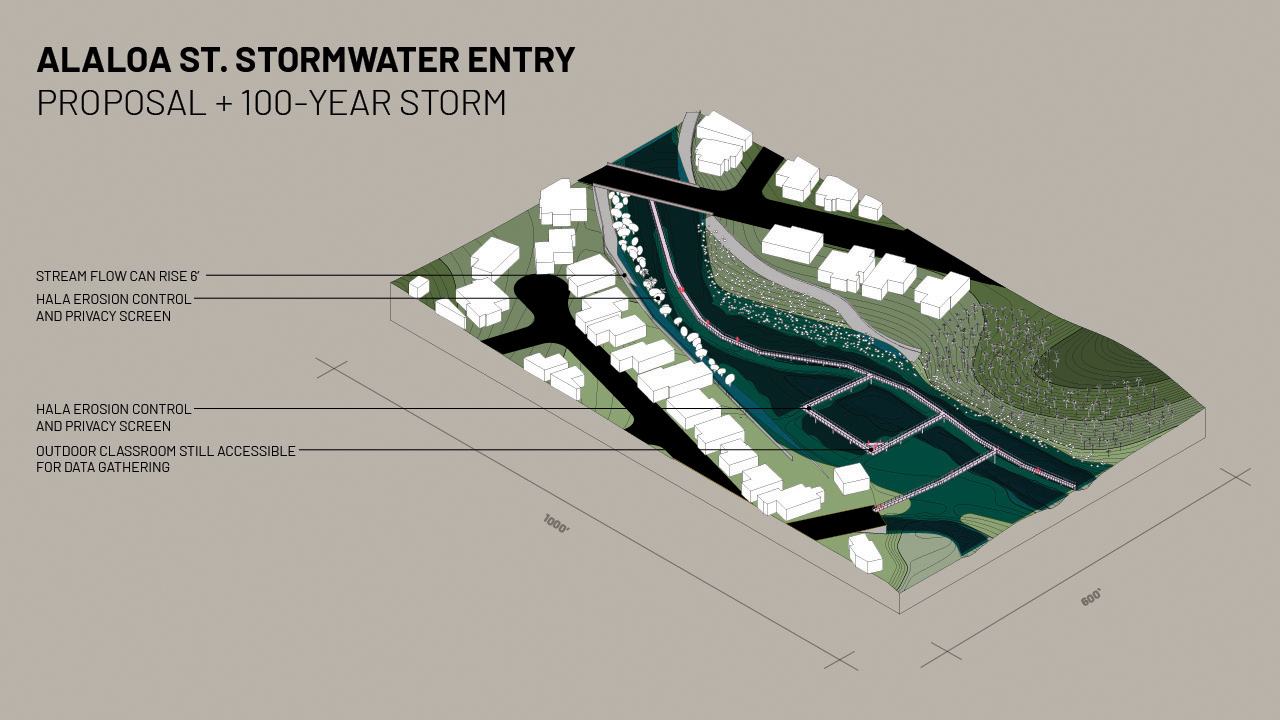 More Projects ︎
Sinclair Library
Mānoa, O'ahu, Hawai'i
The Metcalf Entrance and Sinclair Library are slated to become a major placemaking feature that anchors the western edge of the upper Mānoa campus. The area will feature increased student housing and a new hub, the anticipated Sinclair Student Success Center.

The Success Center will offer amenities for students to study, receive counseling, and grab food and refreshments.

The site will become a major gateway, an intersection between the realms of urban and educational spaces and paces of student life and academics.

Inspired by two prominent female Native Hawaiian scholars, the site design hopes to honor the legacy of Isabella Aiona Abbott (award winning scientist), and Emma Ka'ili Metcalf Nakuina (first water rights comissioner and female judge in the Kingdom of Hawaii.)

Fall 2020 - ARCH 763
Construction Documentation


Instructor: Russell Chung

A downloadable file of the full presentation is located here.
More Projects ︎
Kī, Cordyline fruticosa
On Behalf of Plants was a deep ethnobotanical exploration into the many representations of a single plant.



Spring 2020 - ARCH 696
On Behalf of Plants

Instructor: Phoebe White



A downloadable file of the full presentation is located here.
More Projects ︎
Sand Island
Honolulu, Oʻahu, Hawaiʻi

Sand Island is the major gateway into the State of Hawaiʻi. The 503 acre
island is the location of Hawaiis main harbor, and Honoluluʻs primary
wastewater treatment center. While the island is a major gateway,
human activity is relatively low. Most of the area dedicated towards
infrastructure over inhabitants.
Sand Islandʻs form is derived from a century of earthworks in
creating key city infrastructures (ie. Honolulu International
Airport, Honolulu Harbor). Many years of service as an industrial
park introduced many contaminants into the soil. The primary
goal for near-term initiatives is to redistribute on-site infrastructures and remediate existing pollutants
Redistribution of consolidated resources that are necessary for human habitation such as wastewater, food, travel, etc, would create a shock-adaptive
infrastructure. Portions of the new framework at Sand Island could be replicated at different potential sites across the archipelago.
A downloadable file of the full presentation is located
here
.
Spring 2020 - ARCH 763
Urban Design Studio

Instructor: Judith Stilgenbauer


A downloadable file of the full presentation is located

here

.

More Projects ︎


Lei Lehua Park Entry
Wahiawā, Oʻahu, Hawaiʻi

Wahiawā State Freshwater Park's central feature is the Wahiawā Reservoir. The park's primary visitors access the reservoir for recreational fishing.
The park entry presented opportunities to improve pedestrial circulation, manage stormwater, and propose alternative park activities.
The aim of the following selected imagery is to present conceptual diagrams that demonstrate a fundamental understanding of grading, drainage, and plant spacing to improve the entrance to Freshwater Park.
Fall 2018 - ARCH 381
Landform and Water

Instructor: Hayley Diamond

Duration: 3 weeks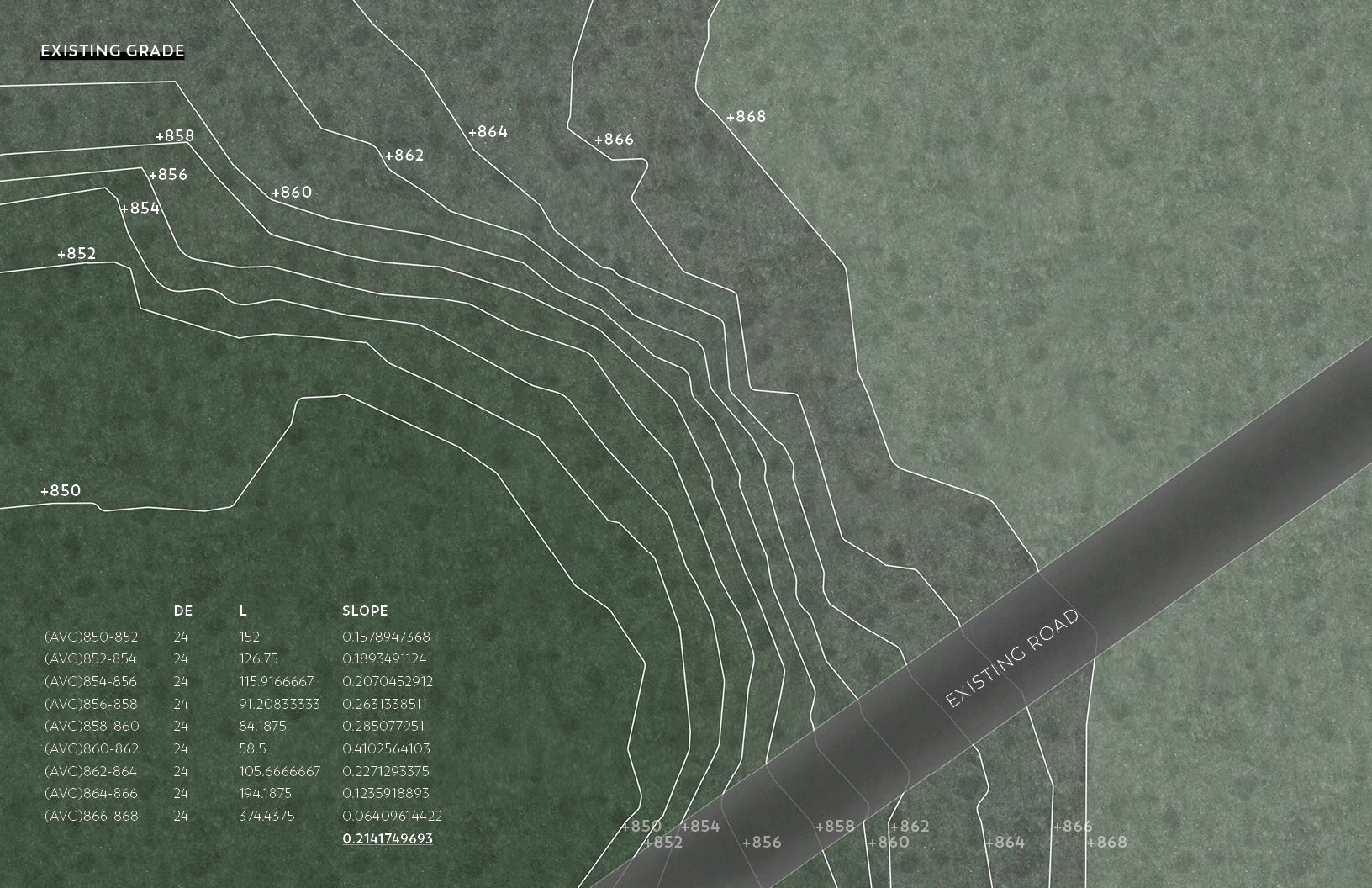 A downloadable file of the full presentation is located

here

.




More Projects ︎